Journey into mindfulness
Mindfulness meditation will help you cultivate a kind, non-judgmental attitude towards yourself and others. You will reduce stress and will develop wisdom, inner peace, strength and courage.
Basic Goodness offers an 8-week Journey Into Mindfulness as an in-company training and on locations in Amsterdam.
What is Mindfulness Meditation?
Mindfulness Meditation is a western, non-sectarian, research-based form of meditation derived from a 2,500 year old Buddhist practice called Vipassana or Insight Meditation. It is a form of meditation designed to develop the skill of paying attention to our inner and outer experiences with acceptance, patience, and compassion.
What are the benefits?
Mindfulness Meditation programs are being conducted in hundreds of hospitals, healthcare facilities, schools, corporate wellness programs, and prison settings all around the world.  In addition to significant reductions in stress, proven benefits of Mindfulness Meditation include but are not limited to:
·         Elevated immune system function
·         Less frequency and duration of illnesses
·         Improved management of pain
·         Decreased heart rate and blood pressure
·         Improved sleep and digestion
·         Increased energy
·         Improved mental function, intelligence, and memory
·         Improved decision-making ability
·         Less irritability, anxiety, and depression
·         Improved interpersonal relationships
·         Increased resilience to change
·         Aid to smoking cessation efforts
Why reduce stress with Mindfulness Meditation?
Basically we want to reduce stress because stress wants to kill us. The mind and the body are intimately connected, our physical health being greatly determined by our mental and emotional disposition.  Kenneth Pelletier, PhD., of Stanford Medical School succinctly stated, "Mind and body are inextricably linked, and their second-by-second interaction exerts a profound influence upon health and illness, life and death."
According to the American Psychological Association, the six leading causes of death in the U.S. are all linked to stress – heart disease, cancer, lung ailments, accidents, cirrhosis of the liver, and suicide, and research has implicated chronic stress as a major contributor to a wide variety of diseases and other health issues such as:
·         Headaches
·         Suppressed immune system
·         Rheumatoid arthritis
·         Diabetes
·         Sleep disorders
A landmark, 20-year study conducted by the University of London concluded that "unmanaged reactions to stress were a more dangerous risk factor for cancer and heart disease than either cigarette smoking or high cholesterol foods."
Chronic stress also exerts a strong and adverse affect on the brain even altering brain cells, brain structure, and brain function.  Research has shown that unmanaged stress:
·         Diminishes short, and long-term memory
·         Inhibits the formation of new memories
·         Diminishes the ability to learn new things
·         Diminishes problem-solving abilities
·         Diminishes the ability to concentrate
Through the regular daily practice of Mindfulness Meditation we can completely change our relationship to stressors while at the same time greatly reducing the adverse affects of chronic stress. Every time we sit to meditate we are actively supporting and promoting our own health and well-being in heart, mind, and body.
The Structure of the Journey Into Mindfulness
The Basic Goodness Journey Into Mindfulness will take 8 consecutive weeks.There will be 8 weekly morning sessions of 2.5 hours each and 1 full day of practice at 2/3 of the course. You will be offered a tool box of effective meditation techniques that you will practice at home. 

For the largest part we follow the classical mindfulness course as developed by Dr. Jon Kabat-Zinn. I feel he did a beautiful job putting this course together back in 1979. The structure of the course is brilliant and I only realized that when I had started giving the course myself. The 'and more' part is extra, it is the flavour I added. What I add is an emphasis on learning to speak and listen from the heart. I feel that it is very beneficial to ourselves and other when we are able to express ourselves from our hearts, just that practicing expressing ourselves is already healing us.
But mainly it is an 8 week meditation course. We have 8 weekly meetings where we practice different forms of meditation (lying on the floor, sitting, walking, standing, etc.). You commit yourself to the course and promise to do your daily 45 minutes of homework, consisting of the excercises you have learned in the latest session. When you do that you will end up with a toolbox of meditation techniques, two months of experience, and a memory of a heartwarming and mind blowing journey.
Do you want something that is really beneficial for your employees?
– Personal Journey into Leadership
How about making a journey towards your real potential?
Atalwin has coached hundreds of people all over the world and facilitated workshops in more than 12 different countries. He specializes in getting his clients 'unstuck' by giving them new perspective on their situation. Atalwin makes you aware of your path and how and where to search for your soul purpose.
Do you ever feel:
Stuck in life? As if you are locked up inside yourself or by the circumstances?
As if you are being chased?
Or that you run into the same invisible walls or obstacles?
like 'is this really it?'
And 'there must be more to life than this'?
Or do you experience the feeling of powerlessness that creeps over your when your read the newspaper or watch the news?
We offer journeys for a reason. Life is a journey. And during the time we are given on this planet we can make a transformation from being a bit of a coward that suffers to a warrior that is courageous, noble, honest and strong. You can become a man or a woman with a big heart that inspires others. In fact, you already are. You just need intention and practice to realize it.
A Personal Journey Into Leadership is a package of 10 sessions. Your first session is free of charge. Do you think you are ready? Fill in the form below and Atalwin will personally connect with you on Skype to schedule your free session.
Thank you for clicking this button. During the year 2012 I will be travelling the world, gathering data for the book I want to write. Please watch the video to get a nice 'feel' of what my project is about and learn how you can contribute if the project speaks to you: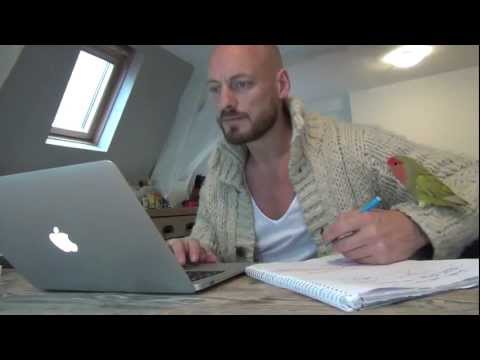 Would you like to help me?
To make my quest for the 21st Century Warrior into a success I need your help. By venturing into the world to search for inspiring people without a fixed plan and enough money but with the intention to do good I will put myself into the hands of the Universe. Something inside me wants to trust that if I give as much as I can to the world, the world will take care of me. But my biggest fear is to go unseen, unnoticed. l want this project to come alive. I hope you want to make this journey with me. I want to involve as many people as I can and hope my journey will help us all open up a bit more. So please follow me here on www.basicgoodness.com and on Facebook and Twitter, subscribe to my mailing list, participate in the conversation, contribute. Read my posts and share them with your friends, especially if they live in places where I'm going.
Then there are the 3 practical ways of supporting that are vital to this project:
Do you want to back my project financially? Please donate and I will reward you!
Got a cool group of people and want to receive awesome Warrior Training? Connect with me!
Am I in your city? Please invite me!
Read more:
1. Do you want to back my project financially? Please donate and you will be rewarded!
Your donations will make it possible to concentrate more on taking the interviews and less on pure survival. It will help improve the quality of the book tremendously. It is possible to become a backer by making a single donation of your choice or a monthly donation for a year (which is called a subscription and comes in shapes and sizes, from 'pat on the shoulder' via 'I'm a fan' to 'I want you as my Skype Coach'). If you live in The Netherlands and don't have PayPal you can transfer your donation directly to my bankaccount A.J.B. Pilon, ABN AMRO 62.00.05.637 in Amsterdam. Otherwise use PayPal, it's nice and easy.
If you like give structural support choose the monthly subscription that speaks to you and hit the Subscribe button:
(Scroll down to read more about the rewards)
2. Got a cool group of people and want to receive awesome Warrior Training? Connect with me!
My mission is to make a difference, to connect as many people with their hearts as I can in all the countries I visit. I love my work and I think I'm pretty good at it (but feel free to read what former clients and participants say here). I will work for donations, food and shelter or good karma alone. It's all good. You could be any sort of company, a management team, an ad agency, a school, a group of friends, students or classmates or a charity. Anything goes as long as you are enthusiastic and willing to learn. You can find me here.
3. Am I in your city? Please invite me!
I'm new, I'm alone and I don't know anybody. I would like to meet inspiring people in your community and you might know them. But a nice dinner, a couple of drinks or a couch to crash on could also be a life-safer. Get in touch with me here.
Here is how I would like to reward my backers:
Pledge € 1,- to € 12,-: Receive a warm, virtual hug!

Pledge  € 12,- or more: Receive a warm, virtual hug and get mentioned on my website!

Pledge € 25,- or more: You will be mentioned on the website and in the book "The Quest for the 21st Century Warrior" in the Acknowledgements sector.

Pledge €50,- or more: You will get a signed, free copy of the book "The Quest for the 21st Century Warrior" and you will be mentioned on the website and in the book!

Pledge €120,- or more: I will help you open your heart or that of a friend. During my time on the road I will give for every € 120,- one Skype Coaching session* to a person of your choice. Plus you will get a signed, free copy of the book "The Quest for the 21st Century Warrior", will be mentioned on the website and in the book and will get all the virtual hugs you need. For example: if you would opt for the "I'm a fan" subscription of €10,- per month you will receive one session.

Pledge €1000,- or more: You are a special person. You gave me permission to live my dream. I will go out of my way to help you and we will make a plan how. You will be updated personally and mentioned in my book specifically.
*My regular fee is for Life Coaching is € 160,- per session. Executive Coaching starts at € 180,-. I can lower the price to € 120,- because I cut on overhead. So this is a good deal for both of us and I would love to work with you!
PS: If it happens that I will receive more donations than I need I suggest we will start investing in local projects. When that happens I will consult my backers to make a cool plan to help others.